Do You Know...?
(A) Why the most accurate locations on lines manually digitized from maps are near the centers of segments and not their specified endpoints ?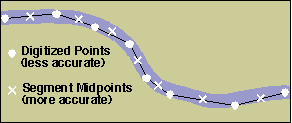 click the picture to find out why.
(This is a sample frame from QTM Comix, our animated tutorial describing the Quaternary Triangular Mesh georeferencing system)
(B) What the sets of acronyms below have in common and what they stand for?
(Place cursor over any acronym or category name to to see it spelled out.)
1. CEN EUROGI FGDC ISO NIST [Category]

2. DIME PLSS QTM GPS NAD UTM WGS [Category]

3. DIGEST DLG OGIS SAIF SDTS VPF [Category]

4. COM CORBA OGIS OGM OLE OODB [Category]

5. AM/FM GFS SCADA [Category]

6. AVHRR DOQ MSS RS SAR TM [Category]

8. BDRF CSR GCM MBR MST SLC SQT [Category]

9. CTI DEM DTM GEM ITU SLM TIN [Category]

10. ADT API CASE ERA OOP UML [Category]

11. HTML HTTP IETF IP URL W3C [Category]
(C) Which geodata problems spatial metadata fails to address?
Around 1992, the U.S. Federal Geographic Data Committee (FGDC) began a major effort to document its extensive holdings of geospatial data, which was eventually codified as the Content Standard for Digital Spatial Metadata (CSDSM). Federal agencies and some private vendors henceforth were required to compile metadata text files for all geodata they produced, a herculean task. While some useful templates and tools have been developed to partially automate production and cataloging of metadata, and there have been undoubted benefits from having metadata, especially on the world wide web, nobody knows how cost-effective this vast and continuing project might be. One problem with the CSDSM is that it is a file-oriented construct aimed at agencies that produce maps and images having a tiled-and-layered structure, and does not adapt very easily to decribing geodata that is assembled as objects or derived from miscellaneous sources. These problems and others were discussed in a critique submitted to FGDC in late 1994. Read the Metadata Rant for further details. Not much has changed.
(D) When will interoperable GIS software become a reality?
Over the past five years, increasingly concerted efforts have been mounted to overcome barriers to sharing of geographic data and software capabilities. Most of these fall into the area of developing standards (such as the U.S. federal spatial metadata standard discussed above), and there are many to choose from. Major standards organizations, such as ANSI, ISO and NIST are all trying to pull together to make GIS more interoperable and geospatial data more shareable. The best-known player in the field is probably the Open GIS Consortium, a tightly-managed loose coalition of about 150 GIS vendors, government entities and academic organizations, which has a highly ambitious interoperability agenda covering more than a dozen major topics. Nevertheless, there are real reasons why GIS technology cannot be easily unified, and not all of them are technical, or even bad.
You might want to read an informal account of some of these reasons, plus some whimsical predictions about the future of open GIS in an interoperability rant (1995).
(E) Where can free geographic datasets be found on the world wide web?
Some types of spatial information that are available for free download include: Street Networks, Political Boundaries, Hydrographic Features, Coastlines, Environmental Quality Data, Digital Orthophotos, Satellite Images, Digital Elevation Models, Elevation and Bathymetry Contours, Airports and Cities, Demographic Statistics and Place Names.
Click here to see some primary and secondary sources of geospatial data.
(f) How you can participate in geodata discussions on the internet?
Find Existing Discussions. Many discussion forums dealing with geospatial data infrastructure and applications can be found on the internet. These include both e-mail discussion lists and newsgroups. The latter are open to contributions from anyone who is able to find them; the former require making an e-mail request to the appropriate list server, after which all messages sent to that list will be forwarded to your e-mail account.
More than 100 GIS/RS/geodata/geography discussion lists exist, along with a rather smaller number of newsgoups. Rather than duplicate his extraordinary efforts to catalog these resources, please see Bill Thoen's inventory of GIS-related lists, including explanations of how to sign up for many of the lists he cites.
Join our Discussions. We organize and administer forums on topics in geoprocessing on the web. They are open to all, and can also be monitored by email. The first forum is on the topic of hierarchical approaches to organizing geodata for the globe. It's a LUSNET forum called:
Global Grids: Issues and Applications (why they are needed, what they are and what they can do)
Create Your Own Discussions. Setting up a discussion list and hosting it yourself used to require a lot of system savvy and administrative effort. Now sites such as Deja News exist to organize and facilitate this process, so that anyone with a web site can start a newsgroup or discussion list without being an internet guru. A completely painless way to set up an e-mail discussion list is to use the SPAM list server from ArsDigita, a very public-spirited company which provides some of the tools we use here.
Join Kindred Sites in a Web Ring. If you find yourself working with other web sites or would like to connect to specific ones, consider forming a web ring. Learn what Spatial Effects is doing in this area on our Planet Ring page.
Home